Los Angeles' continuously booming economy and great cultural affluence attract people from all walks of life. The city's gold and stars have been shining beacons for anyone wanting to have a piece of the action. From ambitious professionals to aspiring actors, people flock to Los Angeles to prove themselves capable of making it in the city.
The growing population of the second largest metropolis in the United States thus raises the demand for new housing and multifamily complexes. Contractors are there to fill the demand for multifamily construction in Los Angeles, and this article showcases the top fifteen.
15) Cobalt Construction Company
2259 Ward Ave, Ste 200, Simi Valley, CA 93065
Founded in 1946, Cobalt Construction Company is a Simi Valley-based general contractor that specializes senior, student and multi-family housing, and mixed-use construction, as well as full-service heavy engineering, ground modification, solar installation, and underground construction. This third-generation company is currently led by President David Nagel, overseeing a company that has grown to be one of California's best multifamily and heavy engineering contractors. The Los Angeles Business Journal honored Cobalt Construction Company with its Commercial Real Estate Award in 2015.
Cobalt recently completed the apartment complex at 680 South Berendo Street as part of the K2LA development by Century West Partners. The development encompasses three building of 130, 170 and 176 units, and feature fitness centers, business centers, rooftop spas and outdoor decks with grilling areas.
---
14) Matt Construction
261 S Figueroa St, Ste 120, Los Angeles CA 90012
Matt Construction is a general contractor established by the late founder Paul Matt, Executive VP Al Matt, and CEO Steve Matt in 1991 and headquartered in Los Angeles. The firm's portfolio ranges a wide variety of projects, from mixed-use to commercial, institutional and hospitality. Matt earned the AIA Los Angeles Building Team of the Year Award two times, as well as the AIA Los Angeles Presidential Award.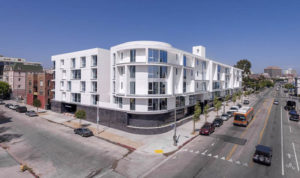 Southwestern Law School contracted Matt Construction to build its Residence at the 7th at 3041 West 7th Street. The four-story complex features 133 fully furnished, move-in ready units. The 190,000 square-foot structure sits behind Bullock Wilshire, the historic-cultural building that serves as the school's main campus. The building also features one level of parking space below ground and another level above.
---
13) Morley Builders
3330 Ocean Park Blvd, Santa Monica, CA 90405-3240
Santa Monica-based Morley Builders is an employee-owned full-service general contractor serving southern California. The company builds just about every type of large commercial project from major civic structures, educational and research facilities, parking structures, medical facilities, hospitality, and of course, multifamily buildings. Since 2012, Morley Builders has completed over 2,350 market-rate residential units in Los Angeles alone, in a range of luxury and mixed-use buildings. In the firm's 72 years of construction experience in Southern California, Morley has won countless awards across all project types, including the Habitat for Humanity award in 2017 for "their commitment to building innovative, high-quality residential and commercial projects with integrity, pride and dignity."
Spanning two full city blocks along Hollywood Boulevard, Morley recently completed El Centro Apartments and Bungalows, pictured above. The building features 507 market-rate apartments including 10 penthouse lofts/live/work units in four 5-story Type II podium buildings. Adjacent to the historic Pantages Theater, amenities include a pool and gym at the podium level and approximately 55,000 square feet of ground level retail. Over 1,200 parking stalls are provided for both residents and theater patrons in five levels of subterranean parking. This is just one of the many luxury multifamily residences the firm has completed.
---
12) McCarthy Building Companies
20401 SW Birch St, Newport Beach, CA 92660
McCarthy Building Companies is an 100% employee-owned general contractor headquartered in St. Louis, Missouri, with offices in 15 cities across the country, including Newport Beach, CA. Established in 1864, McCarthy prides itself on its substantial nationwide portfolio in a wide variety of markets including hospitality, healthcare, education, science, commercial, government, renewable energy, and civil. Over the years, the firm has earned many awards, including the Society for College and University Planning Jury's Choice Award, the San Francisco Business Times & Silicon Valley Business Journal Healthiest Employer Awards, the AIA Awards, and the ENR California Best Project Awards.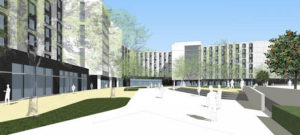 McCarthy built the Los Angeles Student Housing East residences for California State University. The project consisted of 380,000 square feet of gross floor space and seven stories of housing set in double and triple residence units for freshman and sophomore housing. The complex also includes learning spaces such as community and multi-purpose rooms, study areas with collaboration space and independent study space, as well as gathering spaces including fitness and wellness, student lounge, and common kitchens.
---
11) Suffolk Construction
550 S Hope St, Ste 700, Los Angeles, CA 90071
Suffolk is a Boston-based general contractor established in 1982 with offices in several locations across the country, including Los Angeles. Each employee and associate is encouraged to innovate in their work, making them live the company motto: "build smart." For its projects, Suffolk has received numerous recognitions, including the Associated Builders and Contractors National Award for Excellence in Safety, and the NAIOP Public Service Award.
At 235 San Pedro Street, Suffolk built Sakura Crossing, a 230-unit apartment complex developed by Related California. In addition to the apartments, the six-story building includes two levels of below-grade parking accommodating 305 vehicles, and street-level retail space. The 360,000 square-foot complex has a wide array of amenities including a welcome center with concierge, pool and spa, fitness center, club room, a rooftop terrace, fire pit, and barbeque area.
---
10) KPRS Construction
444 S Flower St, Ste 2590, Los Angeles CA 90071
KPRS Construction is full-service general contractor established in 1998 and headquartered in Brea, CA. The firm specializes in projects for a wide array of markets including office, hospitality, retail, medical and multifamily housing. The company portfolio is currently valued at more than $3 billion. KPRS has been a frequent feature in industry lists in the recent years, having been recognized as a top general contractor by both the national and California editions of the Engineering News-Record, as well as the Los Angeles Business Journal and the Orange County Business Journal.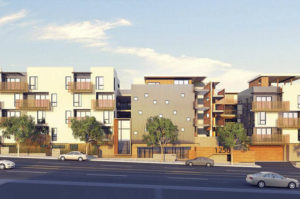 KPRS Construction was responsible for building the Fairfax Apartments in West Hollywood for developer Palisades. The complex houses more than 50 units and a gross area of about 68,000 square feet. Amenities include a rooftop pool and a yoga studio.
---
9) Bernards
555 First St, San Fernando, CA 91340
In 1974, three brothers formed Bernards, a San Fernando-headquartered, employee-owned builder and construction management firm. The company's five California offices are staffed by 260 employees, including 50 LEED Accredited Professionals. Bernards has been the recipient of many of the industry's most prestigious awards, such as the AIA LA Design Awards, the Los Angeles Business Council Architectural Awards, the ENR Best Projects Awards, and the Design-Build Institute of America National Design-Build Award of Merit.
At 1200 South Grand Avenue, Bernards built the G12 Apartments in a site conveniently located in downtown Los Angeles. The complex is strategically positioned near the city's premier tourist and entertainment spots, such as the Staples and LA Convention Centers, 7th Street Restaurant Row, and the Grammy Museum. This 7-story podium building is home to 350 apartment units, as well as approximately 19,000 square feet of ground-floor retail and 7,000 square feet of amenity space, including a clubhouse, fitness room, business center, sun decks, and courtyards.
---
8) C.W. Driver Companies
468 N Rosemead Blvd, Pasadena, CA 91107
Pasadena-based C.W. Driver Companies is a general contractor and designer-builder in service to California since 1919. The firm specializes in general contracting, construction management and design-build services for clients in the academic, entertainment and sports, retail, civic and cultural, commercial, office, hospitality and gaming, healthcare, residential, and senior living industries. Some of the group's work includes landmark projects, historical renovations, and occupied campus programs. C.W. Driver's extensive resume of achievements includes the LA Architectural Award of Excellence, the AIACC Award of Honor, the AIA Los Angeles Design Merit Award, and the ENR California Best Projects Award.
The Belmont Village Senior Living Westwood at 10475 Wilshire Boulevard is one of the significant builds Driver has done in Los Angeles. The 270,000 square-foot assisted living facility features 172 residential units, as well as a 7,000 square-foot kitchen, dining, and bistro space on the first floor. A center for life enhancement, beauty salon, library, movie theater, lounge area, pool, and multi-purpose room is also included in the complex.
---
7) Shangri-La Construction
550 S Hope St, Ste 510, Los Angeles CA 90071
Shangri-La Construction is a Los Angeles-based general contractor owned and led by President Ayahlushim Getachew and CEO Andy Meyers. In addition to general construction and renovation services, the firm specializes in green construction and technology. Shangri-La is a proud, active member of the US Green Building Council. Shangri-La has won many awards from the USGBC, including the Merit Award for Water Efficiency, the Merit Award for Energy & Atmosphere, and the Honor Award for Health & Wellness, as well as accolades from other institutions, including Los Angeles Business Journal's Top 40 General Contractors in Los Angeles.
Shangri-La Construction built the Serenade Modern Flats in Long Beach. The complex consists of a building with seven stories above grade and one below, with a total floor area of more than 130,000 square feet. The building houses 94 studio, one-, and two-bedroom apartments with city and ocean views, as well as amenities including a rooftop club, fitness center, plaza-level pedestrian paseo, dog park, wifi lounge, and conference room. Also included are two levels of connected parking with a capacity of 150 cars.
---
6) Charles Pankow Builders
1 Sutter St, Ste 200, San Francisco, CA 94109
In 1963, Charles Pankow established his eponymous firm with its seminal design-build services. Today, Charles Pankow Builders is a reputable designer-builder with more than 1,000 projects under its belt and counting, serving California with a wholly-owned subsidiary in Hawaii. The firm is one of the founding organizations behind the Design-Build Institute of America. Through the years, Pakow has won various awards, including the DBIA National Awards, the ENR Best Project Awards, and the American Society of Landscape Architects Award of Excellence.
The Emerson is a 20-story, 270-unit high-rise residential tower with four levels of parking that Pankow built for Related California. The ground floor houses a restaurant, cafe, main lobby, technology center, office space and a fitness center. The primary residence hall follows from the 2nd to the 18th story. The top or 20th story is the Penthouse level, which contains a large rooftop terrace, a party room, a kitchen, residential units, and accessory building service rooms.
---
5) W.E. O'Neil Construction
909 N. Sepulveda #400, El Segundo, CA 90245
W.E. O'Neil Construction Company is a Chicago-headquartered general contractor with offices in Tucson, Phoenix, Los Angeles, Ontario, San Diego, Denver, and Nashville. The award-winning firm is led by Chairman William O'Neil and CEO and President Brian Ramsay. The company is proud of its relationships with clients over the years, boasting an 80% repeat customer rate. Among O'Neil's many accolades is the Cisco Project of The Year Award, the Building Design + Construction Top 75 Retail Construction Firms, and the American Shotcrete Association Outstanding Project of the Year Award.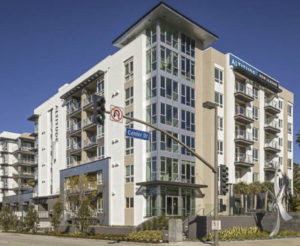 W.E. O'Neil built Sites 1 and 2 of the Howard Hughes Center Apartments in Los Angeles. The two adjacent sites contain 545 apartment units spread over more than 580,000 combined square feet of living space, as well as 840 parking spaces. The complexes were built successfully without disturbing adjacent high-profile commercial and retail establishments on Howard Hughes Promenade, Center Drive, and the 405 South and North on and off ramps.
---
4) Turner Construction Company
555 S Flower St, Ste 4220, Los Angeles, CA 90071
Turner Construction Company is a New York-headquartered international general contractor established in 1905. From humble beginnings, the firm now boasts a staff of 5,200 employees in 57 offices around the world and an annual global portfolio of 1,500 projects with an aggregate value of $10 billion. Turner's Los Angeles office was their first in California, in 1964. The firm's projects in Los Angeles have earned many accolades for Turner, including the ENR Top 100 Green Buildings Contractors, the Building Design + Construction Top Contractor, the National Building Museum Honor Award, and the AGC in the Community Award.
Turner built the Rio Vista Apartments, an affordable housing complex co-located with an early education center on surplus land owned by the Los Angeles Unified School District. The complex houses 50 rental units in a four-story, 60,000 square-foot structure. Amenities include on-site property management offices, a community room, community laundry facilities, and landscaped courtyards. A number of sustainable features including solar panels and community rooftop garden earned the complex a LEED certification.
---
3) Clark Construction
18201 Von Karman Ave, Ste 800, Irvine, CA 92612
Clark Construction has grown from a small local excavator in 1906 into one of the most capable and trusted contractors in the entire United States today. The firm is proud of having balanced its heritage as a local contractor, with its reach throughout the country. With over 4,200 employees spread across its regional offices, the company has the experience and capability to tackle every project of every size imaginable, and successfully deliver them through their impeccable service. The firm has been the recipient of many awards, such as Associated General Contractors Alliant Build America Awards, Associated Builders and Contractors Eagle Awards, ENR Best of the Best Awards, DBIA Awards, and Sustainability Awards.
At 3335 South Figueroa Street, Clark built the University Gateway as off-campus housing for students of the University of Southern California. The complex houses more than 400 units which can accommodate approximately 1,600 students. The million-square-foot development includes more than 80,000 square feet of ground floor retail space available to students and the local community. Social spaces provided in the complex include open courtyards, roof decks, and landscaped exterior areas.
---
2) Webcor Construction
550 S Hope St, Ste 2100, Los Angeles, CA 90071
Webcor Construction was established in 1971 in San Mateo with the goal of delivering projects with unmatched innovation, efficiency, and personal involvement. In 2007, Webcor became the latest acquisition by Obayashi, a major Japanese general construction firm with 86 subsidiaries and 26 affiliated companies around the world. Webcor currently operates from its headquarters in San Francisco, with offices in Los Angeles, Alameda, San Jose, and Honolulu. Webcor has received a multitude of awards, including the Gold Nugget Grand Award, the ENR California Contractor of the Year Award, and the ENR Top 400. Webcor also earned an ISO 9001 Certification in 2013, the only California-based general contractor to have done so.
In Hollywood, Webcor built the Proper Residences, a 22-story high-end apartment complex. The 270,00 square-foot tower is the centerpiece of the five-acre Columbia Square redevelopment program, which includes a six-level commercial office, retail, and extensively landscaped courtyards. The complex has a wide array of amenities including a rooftop with pool and cabanas, private Filifera lounge/restaurant and sweeping 360-degree views, lobby adjacent restaurant, coffee shop and bar, 24-hour room service, and 1,600 square foot wellness center. The complex earned the WELL Multifamily Residential Certification under the WELL Building Standard™ (WELL), the first to have done so in California, and only the second in the entire USA.
---
1) Swinerton
865 S Figueroa St, Ste 3000, Los Angeles, CA 90017
Swinerton is a San Francisco-headquartered general contractor with 3,500 employees and 15 offices across the country, including the origin city of Los Angeles. Established in 1888, the company's impressive portfolio includes many buildings listed in the National Register of Historic Places and other architectural preservation lists. The firm is a forward thinker with its active membership in the USGBC, and its Center for Excellence in Project Delivery. Swinerton has been honored with numerous industry awards, including the Associated General Contractors of California Safety Excellence Award, the Construction Employers' Association Award for Excellence in Safety, ENR California Best Project Awards, the ENR CA #1 General Contractor, and AIA Award of Honor for Excellence in Design and Execution.
Swinerton designed and built Crescent Heights' high-rise apartment complex Ten Thousand at 10000 Santa Monica Boulevard. The 40-story complex houses 283 units, plus a penthouse level on the top floor. The tower has 75,000 square feet of indoor and outdoor amenities, including a lounge, a fitness center, a 75-foot indoor lap pool, exercise studios, a screening room, a game room, boardrooms, a lounging pool, a tennis court, and an acre of a private park with California landscaping. Other interesting features include a proprietary concierge app, a staff of robotic butlers named Charley, on-site Botox doctors, and a rentable Rolls-Royce Phantom.