As L.A.'s population continues to rise the demand for new housing and multifamily residences in the city follows. We've listed list the top 15 multifamily contractors serving L.A. and the surrounding metropole. These contractors have built some of the most impressive multifamily properties in L.A. and across the U.S. The firms were evaluated based on the number of projects they have completed, the industry awards they have received, their affiliations, and the scope of the exceptional projects they have built.
---
Bernards
555 First St., San Fernando, CA 91340
In 1974, three brothers founded Bernards, a Los Angeles-based construction management firm. With a passion for building and a dream of starting a business, Doug, Greg, and Bernard combined their knowledge and expertise to create quality construction projects. Currently, the company has five offices in California, providing construction services for the sectors of higher education, education, civic, healthcare, multifamily, healthcare, sports and entertainment, senior living, and more. The firm has been recognized by various organizations, including the Engineering-News Record (ENR), AIA Los Angeles, the Los Angeles Business Council, the Los Angeles Business Journal, Cal-OSHA, the Design-Build Institute of America (DBIA), the City of Los Angeles, and the Los Angeles Conservancy.
Among the firm's most notable multifamily projects is 8500 Burton Way. This unique residential project features luxury, yacht-inspired elevations that create a futuristic façade. The project consists of 87 luxury rental units on five levels, four levels of parking, a rooftop amenity deck, a spa, and a 600-square-foot saltwater pool. The project was awarded the distinction of Superior Achievement in Design and Imaging from the National Real Estate Investor (NREI) Awards, the Best Mixed-Use Project by the Los Angeles Business Council (LABC) Architectural Awards, the Residential/Hospitality California Best Projects by the Engineering News-Record, the Commercial Real Estate Gold Award for Mixed-Use Project by the Los Angeles Business Journal, and the PCBC Gold Nugget Grand Award Residential Project of the Year.
---
Charles Pankow Builders
1 Sutter St. Suite #200, San Francisco, CA 94109
Charles Pankow Builders has provided design-build services throughout California since 1963. Charles Pankow, the founder of the firm, established the firm to find a better way to achieve clients' goals. In 1993, ten firms, including Pankow, organized the DBIA, an organization dedicated to promoting design-build services. The firm has been one of the most reliable design-build contractors in the San Francisco area and has constructed numerous education campuses, healthcare institutes, hospitality buildings, mixed-use properties, offices, parking structures, residential buildings, and retail spaces. For more than 50 years, the firm has received various accolades, including the 2014 Excellence in Safety Award.
Among Pankow's multifamily projects is the Eastern Columbia Condominium. The firm provided preconstruction and construction services for the renovation of the building and converted the former department store into a 13-story structure with 147 loft condominiums, penthouses, retail spaces, a rooftop pool deck, and a fitness studio. The structure also features a two-level, subterranean parking deck and a three-level, above-grade parking structure.
---
Clark Construction
18201 Von Karman Ave. Suite #800, Irvine, CA 92612
For more than 100 years, Clark Construction Group has been one of the most experienced and reputable building and civil construction firms in the country. Among the firm's various awards are 15 Sustainability Awards, 28 Alliant Build America Awards from the Associated General Contractors of America, eight National Excellence Construction Eagle Awards from the Associated Builders and Contractors, five Best of the Best Awards from ENR, and 19 Design-Build Institute Awards. Additionally, the company ranked #11 on ENR's list of Top Contractors.
One of the firm's notable multifamily projects is the University Gateway, a design-build, mixed-use student housing project adjacent to the University of Southern California's (USC) campus. This eight-story project provides off-campus housing for USC students and consists of 82,800 square feet of retail space for the local community.
---
Cobalt Construction Company
2259 Ward Ave. Suite #200, Simi Valley, CA 93065
Founded in 1946, Cobalt Construction Company is a Simi Valley-based general contractor that specializes in senior, student, and multifamily housing and provides mixed-use construction and design-build services. With a staff consisting of highly experienced professionals, the firm has perfected its craft and designed a methodological approach to construction that ensures client satisfaction. In 2014, Cobalt Construction was honored at the 2014 Commercial Real Estate Awards for its Long Beach Senior Artist Colony project, which received first place in the Multifamily Project of the Year category.
Among the firm's most notable multifamily projects is the 680 Berendo. Completed in 2015, the three-building project features 130, 170, and 176 units, respectively, as well as fitness and business centers, rooftop spas, and outdoor decks with grilling areas.
---
C.W. Driver Companies
468 N Rosemead Blvd., Pasadena, CA 91107
C.W. Driver Companies is a Pasadena-based builder that specializes in general contracting, construction management, and design-build services for multiple sectors, including academic, entertainment and sports, retail, civic, cultural, commercial, office, hospitality, gaming, healthcare, residential, and senior living. For its excellence in construction, the firm has received countless accolades and recognitions, including features in various publications' lists of top contractors.
Located in a beautiful residential neighborhood in the heart of Westwood, Belmont Village is a 266,200-square-foot building project that features six stories, 172 residential units, and four stories of parking. The building also consists of facilities that promote health and well-being, including a center for life enhancement, a beauty salon, a library, a movie theater, a lounge, and a pool.
---
KPRS Construction
2850 Saturn St., Brea, CA 92821
KPRS Construction is a full-service general contracting firm located in Brea. Since 1998, the firm has completed many projects in various sectors, including healthcare, retail, industrial, and urban living. Specializing in a broad range of areas of expertise, KPRS has won numerous awards. In 2014, the firm was ranked #3 on the annual Tenant Improvement Contractors List in the Orange County Business Journal. The firm also ranked #6 on the Orange County Business Journal's Top Contractors List in 2018 and was named the #1 Tenant Improvement Contractor in 2011.
The Gateway at Willowbrook, a 105-unit senior community in Los Angeles, is one of the firm's most impressive multifamily projects. The one- and two-bedroom apartment homes feature modern finishes and amenities, and the structure includes a spacious community room, z computer room, and landscaped gardens with an outdoor lounge and a barbecue area. The building also consists of a state-of-the-art fitness center, laundry facilities, and a public library.
---
Matt Construction
261 S Figueroa St. Suite #120, Los Angeles, CA 90012
Matt Construction is a general contracting firm that serves clients throughout Los Angeles. Established by Paul, Al, and Steve Matt in 1991, Matt Construction has constructed many mixed-use buildings, hospitality establishments, education campuses, cultural buildings, multifamily properties, sports venues, and healthcare facilities. The company incorporates key principles from ISO 9000, lean construction, Six Sigma, and the QA/QC process formalized by the U.S. Army Corps of Engineers to produce high-quality results in each project it undertakes. The firm is also the recipient of many industry awards: it won the 2018 ENR Regional Best Project Award of Merit and it's an AIA Los Angeles Presidential Honoree.
One of the firm's most impressive multifamily projects is the Vision on Wilshire, a 150-unit building with ten penthouses and more than 6,859 square feet of ground-level retail space. The project also features 15 residential stories and three stories of below-grade parking. This 401,748-square-foot project was awarded a LEED Silver Certification.
---
Morley Builders
3330 Ocean Park Blvd., Santa Monica, CA 90405
Founded in 1947, Morley Builders was established by Morley Benjamin, who initially built a few single-family homes in Pacoima, then started building larger structures in Lakewood and Whittier after his military service during World War II.  Sherman Given joined Morley and remained his business partner for more than three decades. Over the years, the firm has built a reputation for quality building services and has been responsible for a number of large projects. Today, the firm has constructed numerous major civic structures, hospitality institutions, medical and healthcare facilities, luxury and mixed-use buildings, education campuses, sports and entertainment venues, parking structures, and commercial establishments. The firm has a LEED Gold Headquarters in Santa Monica and offices in Orange County and San Diego.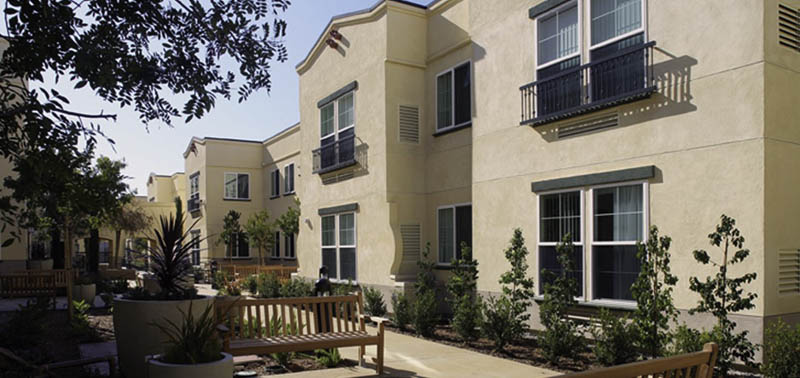 Casa Dominguez, one of the firm's most noteworthy multifamily projects, is a 70-unit, service-oriented development. The building includes childcare services, a health care clinic, a parent resource center, and on-site property management. Casa Dominguez was the first multifamily affordable housing project in Los Angeles and the second in California to achieve a LEED Platinum rating from the U.S. Green Building Council.
---
Pacific Empire Builders
500 N Brand Blvd. Suite #2120, Glendale, CA 91203
Founded by Jason Tolleson and Dan Mahoney, Glendale-based Pacific Empire Builders is a general contractor that specializes in high-quality housing, retail, office, and industrial projects. Tolleson holds a Civil Engineering degree from the University of California at Berkeley and a Masters of Business Administration from the Anderson School at UCLA, while Mahoney holds a professional engineer license and is a real estate broker in California. They also founded the Serrano Development Group, a full-service real estate investment and development firm. As the preferred builder for the Serrano Development Group, Pacific Empire Builders works closely with the former's development team to deliver top-quality buildings in a cost-effective and timely manner.
Among the firm's most notable multifamily projects is The Otsego, a ground-up apartment development project that features three-level parking and 49 multifamily units. Additionally, the project includes five affordable units.
---
Shangri-La Construction
660 S Figueroa St. Suite #1888, Los Angeles, CA 90017
Shangri-La Construction takes pride in its state-of-the-art building services. Located in Los Angeles, the firm was founded by Tod Lipka in 2008. In partnership with the U.S. Green Building Council (USGBC) and the Building Industry Association of Southern California, Shangri-La is committed to the execution of cutting-edge construction techniques and green building initiatives. In 2016, the firm received the Merit Award for Water Efficiency from the USGBC for its Kaufman Apartments project as well as the Merit Award for Energy and Atmosphere and the prestigious Honor Award for Health and Wellness for its Buro Happold office project. The firm was also featured on the Los Angeles County Top Contractor List in the Los Angeles Business Journal.
One of the firm's most notable multifamily projects is the rehabilitation of the Juanita Tate Legacy Towers in Los Angeles. The structure is a 76,444-square-foot concrete senior living facility that consists of 118 senior housing units and a 9,000-square-foot parking area.
---
Swinerton
865 S Figueroa St. Suite #3000, Los Angeles, CA 90017
Since 1888, Swinerton has earned the trust of many clients in multiple sectors. Its company founder, Alfred Birmingham Swinerton was a young Swedish immigrant who established a brick masonry and contracting business in Los Angeles during the post-Gold Rush building boom. Today, the firm has more than 3,500 employees coast to coast and constructs buildings for various industries: aviation, education, government, healthcare, and hospitality. The firm builds interiors, mass timber, multifamily residential, office, and parking structures. Over the years, the firm has garnered multiple awards, including the Associated General Contractors of California Safety Excellence Award, the CEA Award for Excellence in Safety, the ENR California Best Projects, and the AIA Award of Honor for Excellence in Design and Execution. The firm has also been ranked the number one General Contractor by the ENR for four consecutive years.
Among the company's most impressive multifamily projects is The Carlyle, a 78-unit luxury condominium located on Wilshire Boulevard. This project features private elevators, a white-glove concierge service, a fully-equipped fitness center, an all-season pool, a temperature-controlled wine cellar, a yoga lawn, and private seating areas with personal valet parking services and state-of-the-art security and privacy features.
---
Turner Construction Company
555 S Flower St. Suite #4220, Los Angeles, CA 90071
Headquartered in New York, Turner Construction Company has 57 offices around the world and specializes in constructing aviation and transportation facilities; commercial, cultural, and entertainment buildings; data centers; education campuses; healthcare facilities; industrial buildings; religious buildings; hotels and restaurants; and more. Since its founding in 1902, Turner has received several distinctions, including being named the #1 Green Builder in the country by the ENR and the #1 General Contractor in the U.S. The firm was also recognized as a top builder in the healthcare, university, hotel, office, and green building sectors by the 2016 Building Design + Construction Giants 300 Report.
Rio Vista Apartments, one of the firm's most important multifamily projects, is a joint-use development that co-locates affordable housing with an early education center on the Los Angeles Unified School District's surplus land. The LEED-Certified project features 50 units of affordable rental housing, and the project's sustainable features include solar panels and a community rooftop garden.
---
Webcor Construction
550 S Hope St. Suite #2100, Los Angeles, CA 90071
Established in 1971, Webcor Construction started as a low-to-mid-rise office building contractor in San Mateo. Shortly thereafter, the firm expanded and began to construct high-rise and public-works projects. Today, the company has completed projects throughout Los Angeles, Alameda, San Jose, and Honolulu and has earned several industry awards from prestigious organizations. In 2018, the firm ranked #9 on the ENR's list of Top Green Contractors, and in 2013, Webcor became the only California-based General Contractor to have an ISO 9001 Certification.
The Californian on Wilshire, a multifamily project of Webcor is a 327,034-square-foot, 23-story, 74-unit luxury condominium tower consisting of a 245-car, subterranean garage. This high-end project features marble exterior cladding, floor-to-ceiling windows, private elevators, a health club with lap pool, conference and media rooms, a catering kitchen, a wine cellar, a library, and valet parking services.
---
W.E. O'Neil Construction
909 N Sepulveda Blvd. Suite #400, El Segundo, CA 90245
With more than 90 years of experience in the building industry, W.E. O'Neil Construction is an award-winning and nationally ranked construction leader that serves Arizona, California, Colorado, Illinois, and Tennessee. Established in 1925, the company has received a variety of industry awards and recognitions. In 2017, the firm was ranked #68 in Building Design + Construction's Top 115 Contractors and was featured on ENR's list of the Top 100 Green Contractors.
One of the firm's most noteworthy multifamily projects is the Downtown Women's Center. The project is a complete renovation of an existing six-story, 67,000-square-foot structure in downtown Los Angeles. The firm transformed the 1927 historic building into a self-contained community for more than 2,000 homeless and low-income women each year. The project features 72 studio apartment units, a community center, medical offices, and retail spaces. It received a LEED Silver Certification and was awarded the 2011 National Preservation Honor Award.