Los Angeles is a culturally vibrant and significant metropolis, certified a Global City by Foreign Policy. From the 7th Street Restaurant Row to the home of glitz and glamor that is Hollywood, people are enticed to visit Los Angeles in great numbers.
Such a multitude increases the demand for accommodation; a demand only a select number of contractors are capable of answering. Today's list honors the top 15 of these contractors.
15) GMX Construction
15335 Morrison St, Ste 305, Sherman Oaks, CA 91403-1513
Based in Sherman Oaks, GMX Construction is a developer and general contractor operating within Southern California. The firm offers a wide range of services including property analysis and feasibility, engineering, and general contracting. The company specializes in building single family homes, multi-family housing, and commercial retail strips.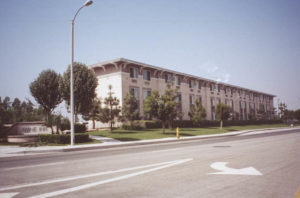 As construction manager, GMX helped build the Irvine Inn in Irvine, CA for owners McCormack Baron & Associates. The hotel is composed of 197 single residence occupancy units, as well as a variety of amenities, including a community center and administrative offices, outdoor pool, spa, and parking.
---
14) davisREED Construction
545 S Figueroa St, Ste 1001, Los Angeles, CA 90071
Formed in 2002, davisREED Construction is a general contractor headquartered in San Diego with offices in Los Angeles, Sacramento, and Palm Desert. The company specializes in hospitality, education, public works, office and multifamily projects, and is led by President Derek Davis. Repeat customers for davisREED include Marriott, the Four Seasons, and Kimpton.
davisREED is progressing on this 143,250 SF, six-story boutique hotel in Hollywood. The Godfrey Hotel will include a restaurant, guest lobby, fitness room, and bike parking at ground level over three levels of subterranean parking including 104 spaces. The hotel will include 220 guest rooms along with an interior courtyard and rooftop swimming pool & bar. Completion is expected for mid-late 2019.
---
13) Ramland Construction
1650 Westwood Blvd, Ste 200, Los Angeles, CA 90024
Ramland Construction is a Los Angeles-based general contractor specializing in restaurant, retail and hotel construction. The firm's portfolio includes projects in major cities all over the country, including Chicago, New York, and Washington, DC, while maintaining California as its primary market. Formed in 1998 by President Steve Ramras, the company offers pre-construction, construction and post-construction services to clients with great knowledge, experience and efficiency, resulting in a high rate of repeat customers.
Ramland renovated the former Hotel Wilcox at 6500 Selma Avenue into the Mama Shelter- a modern boutique hotel designed by Thierry Gugain, composed of 70 units spread across four stories. The hotel is strategically located almost equidistant from Hollywood and Sunset Boulevards and is immediately accessible from Metro Rail stations. The New York Times featured the hotel, describing it as "an eccentric Hollywood hotel for the fun at heart."
---
12) R.D. Olson Construction
2955 Main St, 3rd Flr, Irvine, CA 92614
Based in Irvine, CA, R.D. Olson Construction is a national general contractor and construction manager that specializes in hotel, resort, multifamily housing, country club, retail, and restaurant projects. The company was formed by CEO Robert Olson in 1979, who continues to lead the company together with President Bill Wilhelm. The firm's list of repeat clients includes Marriott, Kimpton Hotel & Restaurant Group, Starwood Lodging, UDR, and Affirmed Housing Group. They've also  just recently completed projects in LA like AC Hotel By Marriott Beverly Hills, NoMad Hotel Los Angeles, AC Hotel Los Angeles South Bay, to name a few. Engineering News-Record has given R.D. Olson Construction a spot on its National Top 400 Contractors List.
At 6151 West Century Boulevard, R.D. Olson built the H Hotel Los Angeles for the developer Seaview Investors, LLC. Located a just few steps away from the Los Angeles International Airport, the 168-key hotel features amenities including a fitness center, a heated outdoor swimming pool, and three fully-equipped meeting rooms.
---
11) Pacific Empire Builders
500 N Brand Blvd, Ste 2120, Glendale, CA 91203
Pacific Empire Builders is a general contractor founded in 2005 by Dan Mahoney and Jason Tolleson, who are also founders of the full-service real estate developer Serrano Development Group. The two firms maintain a close-knit relationship, working together to build and develop high-quality projects. The Glendale-based contractor focuses on hospitality, multifamily, office, retail, and industrial markets. Pacific Empire Builders are recipients of the Pacific Coast Builders Conference Gold Nugget Award.
At 8384 West Third Street, Pacific Empire Builders remodeled the 95-room Orlando Hotel. The hotel offers a wide array of rooms, from standard king bedrooms to entertainment suites with large patios and separate living and sleeping areas. The hotel also has an array of ADA-compliant suites and bedrooms. Amenities include a heated outdoor swimming pool, a fitness room, and a spa.
---
10) Charles Pankow Builders
1 Sutter St, Ste 200, San Francisco, CA 94109
In 1963, Charles Pankow established his eponymous firm, which has since grown into a reputable California designer-builder with more than 1,000 projects currently under its belt, with a wholly-owned subsidiary in Hawaii. The firm is one of the founding organizations of the Design-Build Institute of America. Through the years, Pakow has won various awards, including the DBIA National Awards, the ENR Best Project Awards, and the American Society of Landscape Architects Award of Excellence.
Pankow was responsible for the upgrading and renovation of the five-star Montage Hotel in the heart of the Beverly Hills Triangle. The 214-unit, the seven-story hotel includes a 20,000 square-foot full-service spa, several restaurants, a rooftop pool, more than 9,500 square feet of meeting space, 24,000 square feet of commercial space, and 25 penthouse condominium units. The project earned LEED Gold Certification.
---
9) McCormick Construction
2507 Empire Ave, Burbank, CA 91504
McCormick Construction is a Burbank-based family-owned and -operated general contractor and designer-builder formed in 1914, servicing California, Arizona, Nevada, Utah, Oregon, and Washington. The company specializes in general construction and construction management of mid- to high-rise commercial and institutional buildings, industrial projects, retail and medical facilities, multi-family residential, and interiors for both the public and private sectors. McCormick has been the recipient of multiple awards, including the Design-Build Institute of America's National Award of Merit, the ENR Best Project Awards, and the ENR California Award of Merit.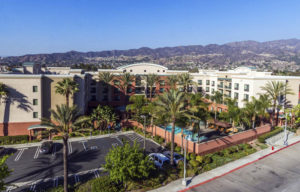 In Burbank, CA, McCormick built the four-story Courtyard by Marriott Burbank. The steel and wood frame structure houses 190 guest rooms spread over more than 105,000 square feet of hotel spaced over a four-acre site. Amenities include a full bar, a spacious lobby, restaurant, gym, and exterior courtyard with pool and spa, as well as meeting rooms and a conference center.
---
8) Matt Construction
261 S Figueroa St, Ste 120, Los Angeles CA 90012
Matt Construction is a general contractor established by late founder Paul Matt, Executive VP Al Matt, and CEO Steve Matt in 1991, and headquartered in Los Angeles. The firm's portfolio ranges a wide variety of projects, from mixed-use to commercial, institutional and hospitality. Matt earned the AIA Los Angeles Building Team of the Year Award two times, as well as the AIA Los Angeles Presidential Award.
Matt Construction built on the existing Beverly Hilton Hotel property the Waldorf Astoria Beverly Hills, a hotel described as bringing "a new level of luxury to the iconic intersection of Wilshire and Santa Monica Boulevards". The hotel covers more than 390,000 square feet and 170 units in 13 levels above a grade of post-tensioned concrete with a limestone and glass façade. Below grade are two levels of concrete which house the hotel's back-of-house facilities and all-valet subterranean parking for more than 300 vehicles.
---
7) Morley Builders
3330 Ocean Park Blvd, Santa Monica, CA 90405-3240
Santa Monica-based Morley Builders is an employee-owned full-service general contractor serving southern California. The company specializes in general construction for major civic structures, educational and research facilities, parking structures, commercial, retail, medical and healthcare buildings, and multifamily residential complexes, as well as being experienced in design-build, seismic strengthening, preservation, modernization, and sustainable projects. A spot on the ENR Top 400 Contractors list and a Los Angeles Business Council Architectural Award are just some of the accolades achieved by Morley.
Morley adaptively reused the United Artists Theatre Building into the Ace Hotel at 929 South Broadway. The 11-story hotel houses more than 180 rooms, as well as amenities including ground floor lobby and registration, meeting spaces, a street front restaurant, and a rooftop lounge and pool with a view of the downtown skyline. The theatre itself, a property listed in the National Register of Historic Places, was restored to original flare and is integrated into the design of the hotel.
---
6) Bernards
555 First St, San Fernando, CA 91340
Three brothers formed Bernards in 1974, a San Fernando-headquartered, employee-owned builder and construction management firm. The company's five California offices are staffed by 260 employees, including 50 LEED Accredited Professionals. Bernards has won many of the industry's prestigious awards, such as the AIA LA Design Awards, the Los Angeles Business Council Architectural Awards, the ENR Best Projects Awards, and the Design-Build Institute of America National Design-Build Award of Merit.
Bernards built the Courtyard by Marriott Valencia in the Santa Clarita Valley. The hotel complex houses 140 rooms and suites spread over a gross floor area of more than 80,000 square feet. Amenities include a lobby with restaurant and bar, exercise room, meeting rooms with internet hook-ups, a gated swimming pool and spa, parking for guests and staff, and landscaping.
---
5) C.W. Driver Companies
468 N Rosemead Blvd, Pasadena, CA 91107
Pasadena-based C.W. Driver Companies is a general contractor and designer-builder serving California since 1919- The firm specializes in general contracting, construction management and design-build services for clients in the academic, entertainment and sports, retail, civic and cultural, commercial, office, hospitality and gaming, healthcare, residential, and senior living industries. Some of the group's works include landmark projects, historical renovations, and occupied campus programs. C.W. Driver's extensive resume of achievements includes the LA Architectural Award of Excellence, the AIACC Award of Honor, the AIA Los Angeles Design Merit Award, and the ENR California Best Projects Award.
In Anaheim, CA, C.W. Driver expanded Walt Disney Imagineering's Grand Californian Hotel. Located in the California Adventure park, the expansion alone included 203 hotel rooms, 46 two-bedroom timeshare villas, two two-story suites, and a swimming pool. Additional facilities in the expansion include a childcare center, arcade, laundry facilities, central plant expansion and two-story below grade parking structure with more than 200 stalls.
---
4) Shangri-La Construction
550 S Hope St, Ste 510, Los Angeles CA 90071
Shangri-La Construction is a Los Angeles-based general contractor owned and led by President Ayahlushim Getachew and CEO Andy Meyers. In addition to general construction and renovation services, the firm specializes in green construction and technology. Shangri-La is an active member of the US Green Building Council. Shangri-La has won many awards from the US Green Building Council, including the Merit Award for Water Efficiency, the Merit Award for Energy & Atmosphere, and the Honor Award for Health & Wellness, as well as accolades from other institutions, including Los Angeles Business Journal's Top 40 General Contractors in Los Angeles.
At 813 South Flower Street, Shangri-La restored the historic 1923 Ritz Miner Hotel into the Wayfarer Hotel. The 12-story hotel includes more than 150 rooms over more than 70,000 square feet of space. Other features that brought new life to the old hotel include a rooftop bar with water feature, lobby-level bar, and lounge, restaurant, communal kitchen, room-service generating commercial kitchen
---
3) Suffolk Construction
550 S Hope St, Ste 700, Los Angeles, CA 90071
Suffolk is a Boston-based general contractor with offices in several locations across the country, including Los Angeles. Edward Fish, Sr. established the firm in 1982 as an open-shop contractor, then immediately transferred full leadership and management to his then-23-year-old son John Fish, who still leads the company today as Chairman and CEO. The company lives true to its motto, "build smart", with each employee and associate encouraged to innovate in their work. Suffolk has received numerous recognitions over the years, including the Associated Builders and Contractors National Award for Excellence in Safety and the NAIOP Public Service Award.
Suffolk built the East Parcel of the Sunset La Cienega mixed-use development in West Hollywood. The hotel consists of 286 rooms housed in two 10-story towers. The project also includes ground floor spaces for retail and restaurant uses and underground parking. The towers sit on a 2-5-acre site located on the southeast corner of the intersection.
---
2) Clark Construction
18201 Von Karman Ave, Ste 800, Irvine, CA 92612
Clark Construction has grown from a small local excavator established in 1906, into one of the most capable and trusted contractors in the entire United States today. The firm is proud of having balanced its heritage as a local contractor with its reach throughout the country. With over 4,200 employees spread across its regional offices, the company has the experience and capability to tackle any project of every size imaginable, successfully delivering them with impeccable service. The firm has won many awards, including an Associated General Contractors Alliant Build America Award, an ABC National Excellence in Construction Eagle Award, an ENR Best of the Best Award, the Design-Build Institute of America Award, and several Sustainability Awards.
Clark recently renovated the Marriott Newport Beach Hotel & Spa. The hotel has more than 500 guest rooms and 20 suites for accommodations, as well as a 14,000 square-foot spa, two restaurants, and 41,000 square feet of indoor and outdoor meeting space for amenities. In addition to the complete remodel of the rooms, the 450,000 square-foot projects included electric upgrades, mechanical overhauls, new administrative staff offices, a new 8,000 square-foot lobby, fully renovated ballrooms, and new meeting spaces.
---
1) Webcor Construction
550 S Hope St, Ste 2100, Los Angeles, CA 90071
Four principals founded Webcor Construction in 1971 in San Mateo with the goal of delivering construction projects with unmatched innovation, efficiency, and personal involvement. In 2007, Webcor was acquired by Obayashi, a major Japanese general construction firm with 86 subsidiaries and 26 affiliated companies around the world. Webcor currently operates from its headquarters in San Francisco, with offices in Los Angeles, Alameda, San Jose, and Honolulu. Webcor has received a multitude of awards, including the Gold Nugget Grand Award, the ENR California Contractor of the Year Award, and the ENR Top 400- Webcor also earned an ISO 9001 Certification in 2013, the only California-based general contractor to have done so.
At 899 Francisco Street, Webcor built the Hotel Indigo Los Angeles Downtown as part of the $1 billion Metropolis mixed-use development. Designed by Gensler, the hotel stands at 18 stories tall with a gross floor area of more than 330,000 square feet. The tower houses 350 hotel rooms, while its connected parking has more than 100 valet stalls. Amenities in the hotel include the lobby-level Metropole Bar+Kitchen, a lounge and bar space on the 18th floor called "18 Social", meeting and convention space, a pool deck, and fitness space. Hotel Indigo achieved LEED Silver Certification.